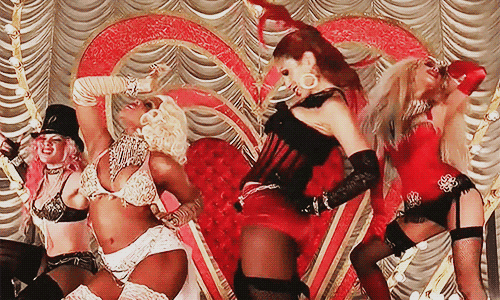 Han transcurrido ya exactamente 16 años desde que Christina Aguilera, Lil Kim, Mya y Pink se unieron junto a Missy Elliott y el productor Rockwilder para el tema Lady Marmalade, incluido en el soundtrack de Moulin Rouge.
Este tema fue lanzado oficialmente el 27 de febrero del 2001 volviéndose un gran éxito que se mantuvo en el primer lugar de la cartelera Billboard 100 durante varias semanas consecutivas y octubo un Grammy.
Este legendario video fue dirigido por Paul Hunter y fue grabado a finales de Marzo de ese año y mostraba a las exitosa cantantes dentro del Moulin Rouge, club nocturno de París alrededor de 1890-1910. En los MTV Video Music Awards del año siguiente ganó como Mejor Video de Película y Video del Año.
Ahora ¿por que se convirtio en un icono del pop?
¡Un gran pasado exitoso!
El tema original nació en 1975 con el grupo de R&B LaBelle, fue escrita por Bob Crewe y Kenny Nolan. La cantante principal de LaBelle, Patti LaBelle, fue quien introdujo la idea de una mujer conocida como "lady Marmalade" quien seducía a un hombre en las calles de Nueva Orleans. La frase "Voulez-vous coucher avec moi (ce soir)"? es una invitación a mantener relaciones sexuales.
Luego de 26 años, los propios Bob Crewe, Kenny Nolan escribieron una nueva versión para la que quisieron a cuatro cantantes del momento: la potente voz de Christina Aguilera, la dulzura de Mya, la irreverencia de Pink y el rap de Lil Kim, esta última escribió su propia parte en la canción.
Lady Marmalade significó el primer lugar en Billboard para Pink, Mya y Lil Kim, mientras que fue el cuarto para Christina, que solo logró superar en 2011 con su colaboración junto a Maroon 5, Moves Like Jagger.
Una version destacada
Aunque la original es un ícono del género dance, fue luego de esta de Moulin Rouge que el pop se llenó de covers como: Nancy and The Boys en Dancemania Speed 8 en el año 2002, En Vogue en el 2002, Sugababes en 2007, Celine Dion,  Ariana Grande y Girls' Generation, entre otras.
Un ritmo legendario
El éxito de Lady Marmalade ha transcendido al punto de que 2014, el video fue certificado por VEVO tras sobrepasar las 100 millones de reproducciones, y actualmente acumula más de 192 millones. Esto demuestra que la fórmula continúa cautivando a nuevas generaciones.
Y es que, ¿quién puede resistirse al contagioso ritmo y corear lo nombres de las divas?